Adrian CîrmîzWeb designer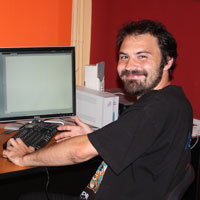 Adrian worked as a web designer since the Internet early ages. Because of this he has good knowledge of all design methods and web app implementation starting with old html tables until the latest CSS3 and frontend javascript technologies.
He has a great artistic sense allowing him to do great work addapting each design to the client specific needs, context, trends, etc.
Besides the design work Adrian has implemented quite a few applications in Flash and Adobe Air.
He has also done extensive design work for the printing industry.